Welcome to Writer's Digest Competitions!
The Writer's Digest collection of competitions, all which are held on a yearly basis, have long-standing respect within the writing community.
Over 90 years ago, Writer's Digest launched its first writing competition. Today, Writer's Digest holds six competitions, with a combined twenty-eight categories. Honoring writers across a variety of genres and formats including short pieces (fiction and non-fiction), poetry, performance scripts, articles (print or online) and self-published books, Writer's Digest has a competition to highlight your work.
Winners are eligible for cash prizes, free trips to our ever-popular Writer's Digest Annual Writing Conference, promotion in our print magazine and website, and more.
We hope that you'll join us and share your work in any (better yet--all) of the competitions!
Competitions which are accepting submissions are listed below. You can view the complete list of Writer's Digest writing competitions, including upcoming competitions, by visiting: https://www.writersdigest.com/wd-competitions. Sharpen your pencils, sync your devices, and mark your calendars!
*NEW* You can now compete in multiple WD competitions with a single login!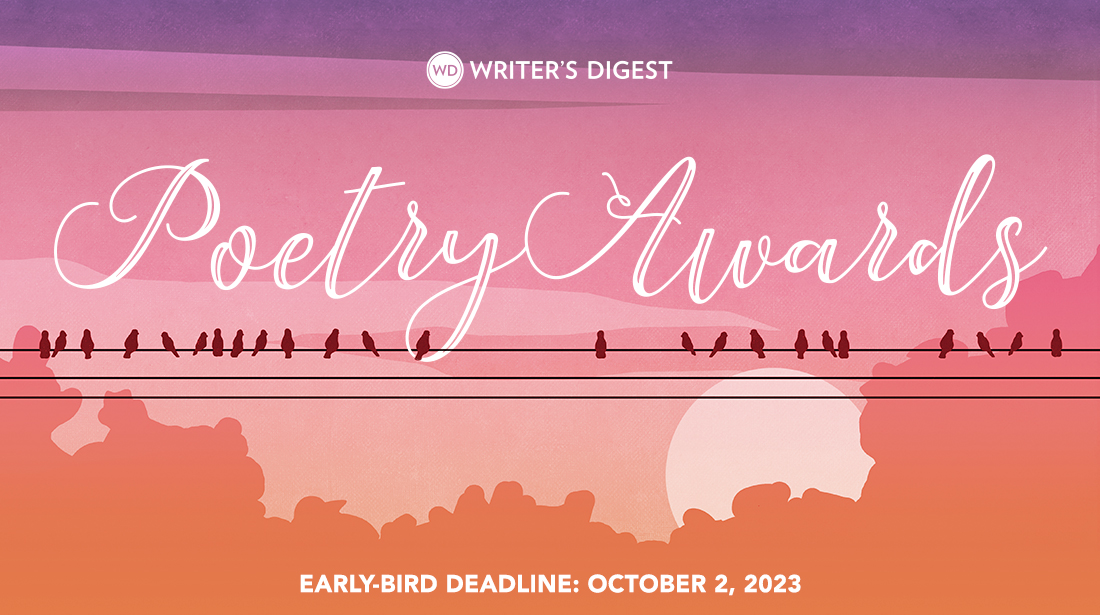 Writer's Digest Poetry Awards
EARLY-BIRD DEADLINE: 10/02/2023


Calling all poets! We're looking for poems of all styles–rhyming, free verse, haiku, and more–for the 19th Annual Writer's Digest Poetry Awards! This is the only Writer's Digest competition exclusively for poets. Enter any poem 32 lines or fewer for your chance to win $1,000 in cash.


PROSPECTUS
Everything you'll need to know can be found on WritersDigest.com or in an easy to follow PDF which outlines the following:


PRIZES
DEADLINES AND FEES
HOW TO ENTER
PREPARING YOUR ENTRY
RULES AND GUIDELINES
FAQ
2023-2024 WD COMPETITION SEASON PLANNER


-For questions related to any of the topics above, email us at: writersdigestwritingcompetition@aimmedia.com. Please reference the the competition name in the subject line of the email.
-For questions related to your Submittable account, including payment, connect via email at: submittersupport@submittable.com or via the help form at: https://www.submittable.com/help/submitter/


Writer's Digest Short Short Story Competition
EARLY-BIRD DEADLINE: 11/15/23

We're looking for short fiction stories! Think you can write a winning story in 1,500 words or fewer? Enter the 24th Annual Writer's Digest Short Short Story Competition for your chance to win $3,000 in cash, get a feature interview in Writer's Digest magazine, and a paid trip to our ever-popular Writer's Digest Conference!

PROSPECTUS
Everything you'll need to know can be found on WritersDigest.com or in an easy-to-follow PDF that outlines the following:




PRIZES
DEADLINES AND FEES
HOW TO ENTER
PREPARING YOUR ENTRY
RULES AND GUIDELINES
FAQ
2023-2024 WD COMPETITION SEASON PLANNER

-For questions related to any of the topics above, email us at: writersdigestwritingcompetition@aimmedia.com. Please reference the the competition name in the subject line of the email.
-For questions related to your Submittable account, including payment, connect via email at: submittersupport@submittable.com or via the help form at: https://www.submittable.com/help/submitter/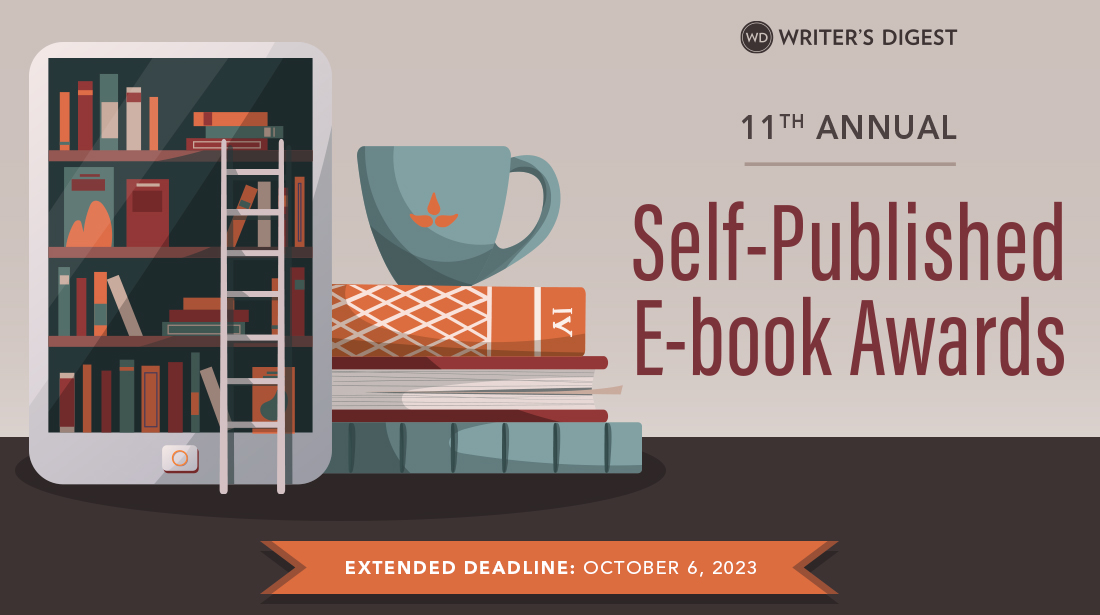 Writer's Digest
Self-Published E-book Awards
DEADLINE: 10/6/2023
We're looking for the best self-published e-book(s) in eight of the most popular categories. Enter the 11th Annual Writer's Digest Self-Published E-book Awards for your chance to win! $5,000 in cash, a feature about you in Writer's Digest magazine, and a paid trip to our ever-popular Writer's Digest Conference!

PROSPECTUS Everything you'll need to know can be found on WritersDigest.com or in an easy to follow PDF which outlines the following:

PRIZES
DEADLINES AND FEES
HOW TO ENTER
PREPARING YOUR ENTRY
RULES AND GUIDELINES
FAQ
2023-2024 WD COMPETITION SEASON PLANNER


-For questions related to any of the topics above, email us at: writersdigestwritingcompetition@aimmedia.com. Please reference the the competition name in the subject line of the email.
-For questions related to your Submittable account, including payment, connect via email at: submittersupport@submittable.com or via the help form at: https://www.submittable.com/help/submitter/


Writer's Digest
Personal Essay Awards
DEADLINE: 10/02/2023

We're looking for personal essays! Think you can write a winning essay in 2,000 words or fewer? Enter the Writer's Digest Personal Essay Awards for your chance to win! $2,500 in cash, publication in Writer's Digest magazine, and a paid trip to our ever-popular Writer's Digest Conference!

PROSPECTUS
Everything you'll need to know can be found on WritersDigest.com or in an easy-to-follow PDF that outlines the following:



PRIZES
DEADLINES AND FEES
HOW TO ENTER
PREPARING YOUR ENTRY
RULES AND GUIDELINES
FAQ
2023-2024 WD COMPETITION SEASON PLANNER


-For questions related to any of the topics above, email us at: writersdigestwritingcompetition@aimmedia.com. Please reference the the competition name in the subject line of the email.
-For questions related to your Submittable account, including payment, connect via email at: submittersupport@submittable.com or via the help form at: https://www.submittable.com/help/submitter/